Christmas & New Years at Bondi Beach Backpackers
Perfect for people travelling to Sydney during the festive season as a solo traveller or with friends. We provide not only accommodation but an experience. We plan pre-Christmas Parties, a full Christmas Dinner with lots of FREE wine, explorer days, beach BBQs and an amazing New Year's Eve group experience to the Bridge to watch the midnight fireworks and party after. Come along, have fun, make new friends and have a Christmas and New Year's Eve that you will never forge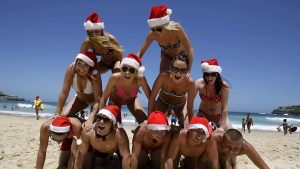 What's On Over Christmas & New Years at Bondi Beach Backpackers
We know that being away from family at this time of year can be tough, so we have a list of activities planned for you over Christmas & New Years to fill the void with food, drink and fun.
More Details on Christmas & New Years
Sydney Harbour Boat Party: details coming
Christmas Dinner: We have a sit down Christmas Dinner from 1pm located at Bondi Beach Backpackers with chicken, salads, pigs in blanket, lots of free wine and dessert too. We have veggie and vegan options if we know well in advance. Cost is $25 to cover food, wine and staff.
Moustache & Santa Hat Party: A little bit of fun & easy to prepare and a prize for the best moustache. Grow one, draw one on or buy one from the $2 shop a few doors up. The party goes from sundown to 10pm when we hit the beach to continue. NO cost if you bring your own drinks, or chip in $9.00 and drink till its gone.
Randwick Races Race Day: On every year & is becoming a popular event with our crowd. Free to those with an international passport, its a day out at the races. You need an OPAL card for the bus (we can help you get this sorted, so don't let that stop you.)
Watson's Bay/Sydney Harbour National Park Day Out: We catch a bus to cliffs over looking Watson's Bay and South Head. We walk downhill past lighthouse, the Gap and down to Watson's Bay and Camp Cove Beach where we make base for the day. From here you can walk down the loop track for 30 mins to see the south head point and the second lighthouse or hit Watson's Bay hotel for great food and drinks and killer cocktails. You need an OPAL card for the bus.
Taronga Zoo Day Out 29th December 2019: We catch bus to Circular Quay & ferry over to Taronga zoo with 15% off vouchers in hand. Spend the day in the ZOO located right on Sydney Harbour. You can get a picture of the giraffes with the Opera House behind. Ferry back to Circular Quay and then stop for a drink at the Opera bar. Bus it back to Bondi Beach. You need an OPAL card for bus and ferry and a 15% off voucher from reception
New Year Day Festivals: Details coming
KATIE ROBERTS stayed 23rd December 2017 to 3rd January 2018: "The most welcoming hostel I have stayed in. It feels like a big family all in one place. Amazing fun stay, Thank you"
JENNA JONES stayed 23rd December 2017 to 3rd January 2018: "Great stay at Bondi Beach Backpackers, stayed for 11 nights and the hostel is one big family. Great staff and great atmosphere, Thanks"
KATIE HEPWORTH stayed 22nd December 2017 to 4th January 2018: I have had an amazing time, the BBQ and goon has been class. I have also had a great experience at Bondi, the showers are really good!"
MARKUS HAEFNER stayed from 23rd December 2017 to 3rd January 2018: Thanks Bondi Beach Backpackers for the nice time i had during Christmas & New Years. I really enjoyed the atmosphere here with all the people, even though i was far away from home, especially everything that has been organised for Christmas… party bus, dinner etc. Thanks to everybody, i really had a good time here & will always remember this very special Christmas & New Years
NAOMI ROSS stayed 23rd December 2017 to 1st January 2018: "Great stay at Bondi Beach Backpackers, stayed for 11 nights and the hostel is one big family. Great staff and great atmosphere, had one of the best Christmas's staying at Bondi Beach Backpackers. Everyone was like a big family and Bondi Beach Backpackers put on loads of events getting everyone together. Sad to leave! "
LAUREN TAPP stayed from 23rd December 2011 to 4th January 2012
"Atmosphere at the hostel was great and the effort that went into the events that were put on over Xmas and the New Year were good. Everyone who works here is friendly, best hostel I've stayed in, in Sydney"
CIARA BROWN stayed 23rd December 2011 to 3rd January 2012.
"Rooms were tidied every day and all our friends were able to stay in the same dorm which was brilliant. Had an amazing time, be back next year"
MICHAELA STEVENSON stayed 21st December 2011 to 4th January 2012.
"Had such an amazing time! Christmas and New Year were awesome! Lots of free food and goon! Lots of different activities and nights out organised. Perfect location! Very festive over the Christmas period. Met some lovely people and staff all very helpful and friendly! Would definitely come back!"
FAQ's
CAN I GET BACK TO BONDI BEACH AFTER NEW YEARS EVE CELEBRATIONS
YES!!! There is always transport to and from the City and Bondi Beach, there has to date never been an issue so please don't worry about getting from one to the other and any time of day or night. The buses run 24/7 every day of the year.
HOW DO I CANCEL MY BOOKING?
To cancel please don't call us. Please email info@bondibeachbackpackers.com.au with your name and arrival date letting us know that you want to cancel the booking. We will confirm back with you that the booking is cancelled. We are only able to refund 50% of any amounts paid in certain circumstances.
We recommend that you get travel insurance just in case your situation changes and you need to cancel your booking. As stated above we do not do refunds, name changes, transfers or credit you for another time so the best option for you not to lose out any monies paid for our accommodation is to buy travel insurance. We will be happy to give you any documentation so you can claim back for monies lost due to cancellation.
What if my credit/debit card declines If your credit/debit card declines for any payment we will first try a smaller amount, starting with 50%, 33% 25% & then contact you requesting to check your credit/debit cards fund or supply us with another credit debit card. If you do not respond to our emails your booking will be considered cancelled and any amounts paid will be non refundable/transferable.
WILL EVENTS CHANGE?
Please note events are based may change due to weather/unforeseen circumstances with the same notice the weather gives us.
So there it is. We hope to see you soon,