Bondi Beach Backpackers Services & Facilities
Bondi Beach Backpackers Office Hours
8am to 11pm every day. If you arrive outside of office hours just call the number on our front entrance & the night or day manager will check you in.
Bondi Beach Backpackers Security
Your security is paramount to us. To keep our guests & their belongings safe & secure we have locks on all bedrooms doors & entrances and we make sure that each guests has their own correct key.
We have security CCTV in communal areas.
We have lockers included for your valuables.
There is a day storage include up to to 6pm and also available to 10pm for a few dollars.
There is overnight weekly and month storage available for a small daily fee.
We also have a non sexist, non racist policy ensuring that all our international travellers are comfortable.
Bondi Beach Backpackers Check in
Arrive anytime that suits you. Check in usually 12am to 1pm, sometimes earlier, some time later depending on unforeseen circumstances. If you do arrive early & we are cannot check you in straight away you will have access to the bathroom facilities, luggage storage, kitchen, laundry, Internet & TV lounge. You will have access to everything except the bedrooms which will be ready as soon as housekeeping is complete.
Bondi Beach Backpackers Check Out Time
Check out is 11am. We have a grace period of 30 minutes. After this time we expect you to pay a further night. We do offer a 1pm late check out for $10.00 or 6pm late check out for $20.00 but we would need to know this by 11am on the day. This would be subject to availability. After 6pm we charge a further night. We think this is fair and caters to most situations you may have going on in your day. Communication with reception is vital.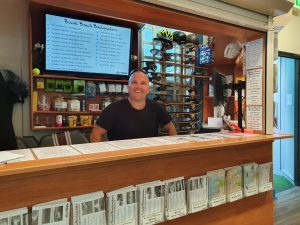 Bondi Beach Backpackers Additional Services
Airport Shuttle from the Domestic & International airports to Bondi Beach Backpackers ($25.00 – $33.00 depending on time of day)
Airport Shuttle from Bondi Beach Backpackers to the Domestic & International airports ($19.00 – $33.00 depending on time of day)
A Tax File Number so you can work in Australia. we do this a service included in your stay
Mobile Phone Sim Card ($2.00)
Bondi Beach Backpackers WiFi
We have 24 hour NBN Super fast Wi-Fi with no time or data restrictions which are common in other places. We choose to keep it open, fast and unrestricted and best of all included in your stay.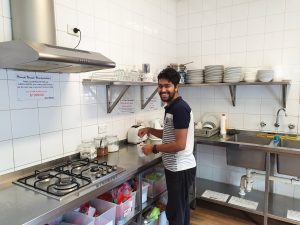 Bondi Beach Backpackers Facilities
Clean & secure bedrooms
Clean modern bathrooms
Fully equipped kitchen
TV Room with movie library
Laundry
Secure lockers
Bondi Beach Backpackers Sports & Games
FREE Surfboards,
FREE Body boards,
FREE Skateboards
FREE Snorkels & masks
FREE Table tennis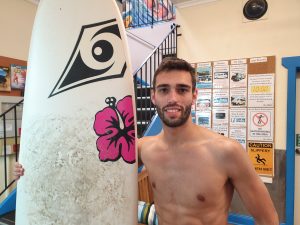 Bondi Beach Backpackers Travel
Our travel desk can book bus ticket & passes, trains, flights plus any tour you have in ind, Just ask!!
Bondi Beach Backpackers Employment 
We will make every effort to help you obtain & keep employment. We receive jobs every day of various descriptions. Come check whats new at the office anytime.
To work in Australia you will need
A Tax File Number. This can only be applied for once inside Australia. We can help you with this
A FREE employment pack which we can email you anytime. The pack includes list of employment agencies, cover letters, resume examples, business card templates, and lists of construction, landscaping, paving & fencing companies.
Transport help & advice in the form of maps and travel hints
We can offer extra employments services too.
Tax back & Superannuation services
Training courses
Training courses available (costs involved)
Bar, Cafe & restaurant work (Responsible Service of Alcohol)
Casino Work (Responsible Conduct of gambling)
Building & construction work (White card)
Coffee/Barista work
Traffic Work
Bondi Beach Backpackers Extras
FREE Employment pack. This can be emailed to you before you arrive.
FREE Travel planning
FREE Bondi Beach & City maps to explore Sydney.
Bondi Beach Backpackers Extras Extras
Opal cards
Electrical adaptors
Sewing kits
Padlocks
Food bags